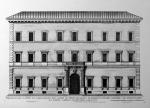 The headquarters of Fondazione Roma are situated in the historical building named Palazzo Sciarra, which overlooks the Via del Corso in the centre of Rome where some of the most ancient churches stood during early Christianity and important patrician mansions were built as from the XV century.
In the second half of the sixteenth century the Sciarra branch of the Colonna family, that held the Principality of Carbognano, built the Palace on the site where the Colonnas owned two separate buildings called, respectively, the 'Palazzo imperfetto' and the 'Palazzetto', which the Milanese architect, Flaminio Ponzio, planned to be joined in 1610.
In 1641, Orazio Torrioni took over the direction of the building site and created the noble and austere façade squared with ashlar angles, crowned with cornice on corbels and divided by three orders of windows.
The monumental portal has two fluted columns surmounted by composite capitals on high plinths, which support the balustraded balcony on the first floor, placed in front of an ashlar arch. The face of the plinths and the balustrade are enriched with columns sculptured in relief in remembrance of the relationship between Sciarra family and the prestigious Colonna dynasty.
Due to the beauty of the portal, the Palace was included amongst the 'Four Wonders of Rome' together with the Borghese cembalo (harpsichord), the Farnese cube and the Caetani-Ruspoli staircase.
During the eighteenth century, Cardinal Prospero Colonna adapted the Palace to the style of the period. Luigi Vanvitelli, architect and friend of the cardinal, was involved in the architectural and pictorial renovation and designed the refurbishment.
The Cardinal's Library, the small Gallery and the Mirrors Study, rich in pictorial decorations, are some of the rooms that were created during the refurbishment, increasing the historical and artistic value of the Palace. In the late nineteenth century, Francesco Settimi attended to the restoration of the surrounding buildings, the extension of the right wing and reconstruction of the courtyard. The size of the Palace was considerably reduced between 1871 and 1898, when Prince Maffeo Sciarra commissioned the architect Giulio de Angelis to open the adjacent Via Minghetti and to build the Quirino theatre and the Sciarra Gallery in the rear of the complex.